In Federal Reserve Chairman Ben Bernanke's world, all he had to do was lower interest rates enough and housing prices would magically re-inflate.  Wrong!  Mortgage rates are at all time lows, home prices are at 2002 levels and owning a home is just as cheap as renting, yet the housing market remains mired in a depression. The folks at the Federal Reserve who created the housing bubble with super low rates and easy "no questions asked" mortgages are helpless to put Humpty Dumpty back together again.
Sales of new homes should be booming based on low home prices and ultra low interest rates – instead new home sales in 2011 were at the lowest levels on record.
Are people just too frightened by the bad economy to take a chance on buying a home?  Was the pool of potential home buyers exhausted during the housing bubble years, resulting in the current lack of demand for new homes?  Does the general public understand that in many cases a fixed mortgage payment would be no more than an ever increasing rent payment?  Has confidence been so collapsed that no one believes home prices will ever rise again – the opposite of what everyone believed a few years ago?
Let's take a look at some graphs to get an understanding of what's going on in the housing market.
Median Cost of Rent Compared to Median Mortgage Payment
The plunge in fixed mortgage rates below 4% has resulted in much lower payments when purchasing a home.  Low interest rates and  dramatically lower housing prices have resulted in a convergence between the cost of rent and the cost of a mortgage, something that has previously never occurred.  That house you are renting today for $1,200 a month could be yours free and clear in 30 years with a fixed rate mortgage payment of $1,200 per month.
Despite the all time low cost of owning a home, new home sale collapsed in 2011 to only 302,000 homes – the lowest on record.
Home Prices Have Given Up All The Gains of The Bubble Years
The price of homes has collapsed since the real estate bubble blew up in 2008.  Many homes in hard hit states like Nevada and Florida have dropped in value by 60 to 80%.  Prices have dropped so low that you can now buy a home with a credit card.  Here's the sorry looking graph on home prices from Calculated Risk.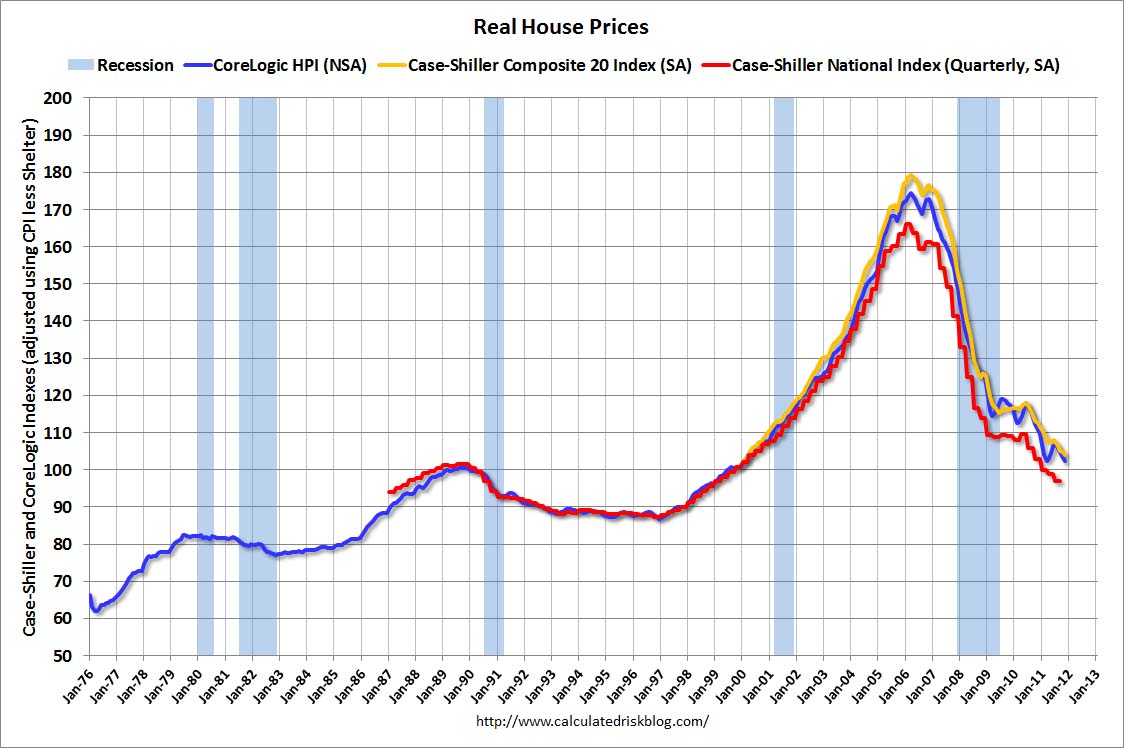 Declining home values is a double edged sword for buyers.  Although current home buyers are able to buy homes for a fraction of their previous price, no one wants to buy a home and see it immediately drop in value.  The latest report from Case-Shiller shows that home values dropped another 1.2% last month to a post bubble low.
Many analysts are predicting that home value could decline another 10 to 20%, which would put all current new home buyers deeply underwater on their mortgages.  Also pressuring home prices is the flood of foreclosures which is causing home prices to drop further.  Total foreclosures in 2011 reached 2.7 million and this year is expected to be even worse.
Lack of Jobs and Income Is The Real Issue Preventing a Recovery in Home Prices
Four years after the start of the recession, the unemployment rate remains at almost 9%.  If you are unemployed, it doesn't matter if home prices drop another 50% – the house will still cost too much.
We have come full circle in this great housing collapse.  When I bought my first house over 20 years ago, the standard sales line of real estate agents was that you couldn't go wrong buying a home, which at that time was true.  Home prices rose year after year and better yet, incomes were rising as well.  Over time, rising incomes resulted in the mortgage payment becoming less and less of a burden in terms of a percentage of total monthly income.  Today the reverse is true –  home prices continue to decline with no end in sight and median household incomes have fallen to 1996 levels as seen in this chart from singularityhub.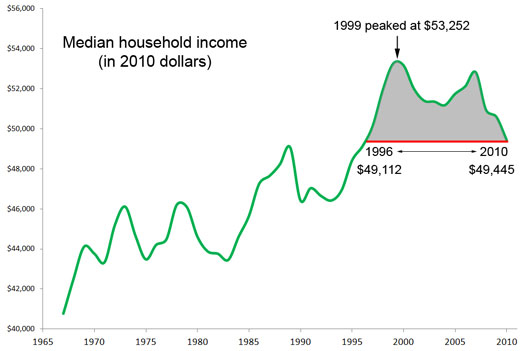 The cold reality of the situation is that housing values are ultimately supported by jobs and incomes.  The academics at the Federal Reserve have things backwards by believing that an economic recovery can be engineered by re-inflating housing values with  easy money.  In fact, a real recovery in housing will not begin until the economy can start producing jobs and income.  The Federal Reserve can force interest rates lower through financial repression but the one thing they can't directly do is create jobs.
Never in history has a collapsed asset bubble been quickly re-inflated.  Real estate values in Japan are still at less than half the valuation levels reached in the early 1980's.  Anyone who thinks there is a quick and easy answer for a recovery in the housing market is delusional.